How to write a official letter in sinhala news
We publicly state that we have factors when it comes to scanning, indexing and ranking. Generally, the number of algorithms is a casual number.
Sri Lanka Dear Mr. President, Congratulations on your recent election success. Your coalition government now has an historic opportunity and responsibility to address major human rights issues that have been ignored or exacerbated by previous administrations.
We look forward to your leading efforts to address past and ongoing human rights violations in the country and re-establish Sri Lanka as a rights-respecting democracy. Human Rights Watch is an independent, nongovernmental organization that monitors human rights developments in more than 90 countries around the world.
For more than three decades we have reported on violations of international human rights and humanitarian law by state and non-state actors. Human Rights Watch relies on donations from individuals and foundations; we do not accept funds from governmental sources. Human Rights Watch has monitored human rights in Sri Lanka for more than 25 years.
We have documented a range of issues including child recruitment and other violations of the laws of war by the Liberation Tigers of Tamil Eelam LTTEthe mistreatment of Sri Lankan migrant workers in the Gulf, and torture and other conflict-related abuses by government security forces.
We welcome some initiatives your government has already undertaken, such as case-by-case reviews of those detained under the Prevention of Terrorism Act, the lifting of restrictions on media reporting, the end of Internet censorship, and the appointment of non-military personnel as governors to the North and East provinces.
Also important were the removal of nongovernmental organizations from the oversight of the Ministry of Defence, and your pledge to form commissions to return land in the former war zones to their rightful owners. We look forward to having a constructive dialogue on human rights issues with your government.
We greatly appreciated meeting with Foreign Minister Mangala Samaraweera in New York on February 13, and thank you for the invitation extended through Mr.
Samaraweera to visit Sri Lanka in the near future. Below we outline some of the key human rights issues we would like your government to address: Police Torture and Ill-Treatment Recent research undertaken by Human Rights Watch found that in areas we investigated, the Sri Lankan police routinely commit torture and ill-treatment of individuals taken into custody.
The care that is sometimes taken to use methods designed to leave no visible marks suggests a level of institutionalization. While Sri Lanka has legislation prohibiting torture, in practice disciplinary or criminal prosecutions against police officers and their superiors is rarely taken.
In most cases of serious abuse that Human Rights Watch examined where the perpetrators were identified, they remain in active duty or merely are transferred to another police station. Only in a handful of particularly egregious cases under the media spotlight was serious action taken against the offending officers.
Even in those cases, there is no history of punishing superior officers as a matter of command responsibility. Victims of torture and their families face a daunting path to redress and justice. For those of limited means, particularly from rural communities, the various procedural steps that need to be taken can be overwhelming.
Many victims report being threatened by the local police against taking any action. Even those who report being mistreated, either through a lawyer or the National Human Rights Commission, have cited ongoing harassment by the police when back in their villages.
In recent years ultra-nationalist Buddhist groups, particularly the Bodhu Bala Sena BBShave incited hatred and violence against minorities, particularly Muslims. In Juneprotests led by BBS leader Galagodaaththe Gnanasara Thera, purportedly to express concerns for the Buddhists in Aluthgama, led to riots that left at least four Muslims dead, 80 injured, and numerous homes and businesses in the town and surrounding areas destroyed.
To prevent such violence from escalating, the government should fully investigate and appropriately prosecute members of groups such as the BBS for inciting and participating in communal violence.
Additionally, allegations of security force involvement in, or failure to stop such violence needs to be thoroughly investigated, and disciplinary or prosecutorial action taken. Civil Society and the Media One of the first announcements both by you and Prime Minister Ranil Wickremesinghe was to assure civil society and the media that the reign of censorship, and threats and violence imposed by the previous government was over.
Furthermore, you pledged to dismantle the surveillance apparatus that led critics of the government to fear that their phones were tapped and their email was insecure. You also removed the Ministry of Defence from oversight of nongovernmental organizations. These are very important steps that have brought a markedly improved environment for the long-beleaguered members of civil society and the media.
We urge you to go further to ensure that the culture of repression is well and truly a thing of the past by ordering investigations into who ordered the violations described above. Importantly, your government should prioritize investigations into some of the egregious actions over the last several years taken against civil society and the media.
Some of these investigations could include, but not be limited to: Murder of Lasantha Wickramatunge in Enforced disappearance of Prageeth Ekneligoda in Arbitrary arrest, detention and ongoing travel restrictions on Ruki Fernando and Father Praveen Mahesan in Finally, we encourage your government to include civil society in consultations on important matters of public policy, such as ensuring accountability for past abuses and restoring the political independence of oversight bodies.
Traveling to Sri Lanka is especially great when knowing the language Sinhala.
In spite of the previous governments promises to make the whereabouts of all detainees known, many family members and lawyers continue to have no information about where, or indeed if, their loved ones are detained.
Prompt and thorough government action to resolve these cases should be a government priority and we look forward to official progress reports as the case evaluations proceed. The government need not charge the person with an offense; many PTA detainees have been held for years without charge.The Mahanayake Theras of three Nikayas have forwarded a letter to the President and the Prime Minister regarding the controversial SAITM is.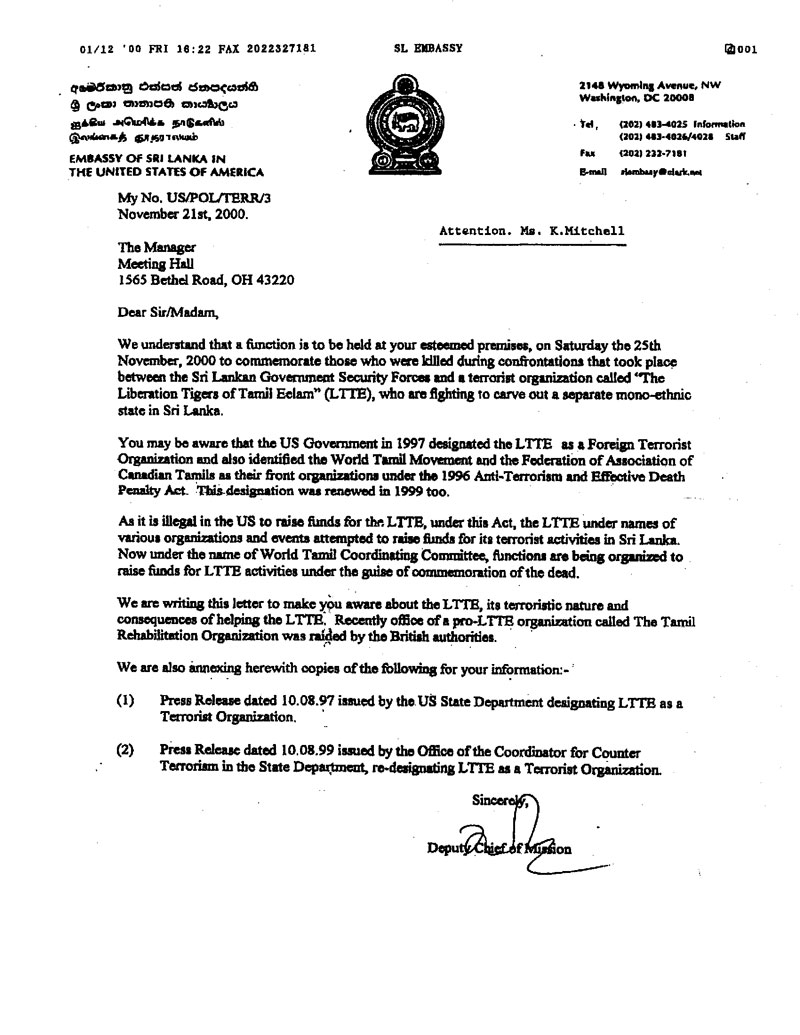 All the drama about "will he won't he" is now over. He will and he has, President Sirisena has been compelled to give nomination to Ex President Mahinda Rajapaksa from the UPFA (the coalition that has a majority in parliament) for the forthcoming general election.
Sinhala is one of the official and national languages of Sri Lanka, along with Tamil. Sinhala, along with Pali, played a major role in the development of Theravada Buddhist literature. Sinhala has its own writing system, the Sinhala alphabet, which is a member of the Brahmic family of scripts, and a descendant of the ancient Indian Brahmi script.
Justice for Immigrants is committed to immigration reform as a priority of the U.S. Catholic Church and to creating a culture of welcome for all migrants. How to write sinhala letters Sinhala Alphabet - Android Apps on Google Play letter z; sinhala letters text; tamil letters; sinhala letters in office; welfare letter sample in sinhala; Top SEO News, Google will keep in secret the number of search quality algorithms Oct 08/ Nov 11,  · So, sometimes you will have to write a letter formally, maybe to your boss or your company, other times maybe you're on holiday and you want to write a .